There's nothing more important than your safety. So if you can smell gas, think you have a gas leak or are worried about fumes containing carbon monoxide, please call the Gas Emergency Services immediately on 0800 111 999.
Once you've reported your emergency, please follow the safety information below:
Do not turn on or off any electrical switches, including your TV, computer, and cooker
Open all windows and doors to ventilate the property.
Put out all naked flames and do not smoke, strike matches or do anything that could cause ignition
If you have doors or gates that are secured by an electric lock, or entry phone, please open these manually
Turn off your gas meter at the main control valve, unless it's in a confined space or cellar
To turn off your gas supply, you first need to locate the gas isolation valve. In newer houses, the gas meter and isolation valve are often outside in a meter box. If not, try looking under the stairs, beneath the kitchen sink or in the garage. The valve will look similar to the one in the photo.
Remember, if you smell gas, open doors and windows and never operate any electrical switches.
To turn off the gas supply, simply turn the handle a quarter turn so the lever is at 90 degrees to the upright gas pipe.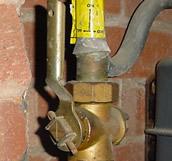 Please feel free to contact us for a friendly and personal solution to your Plumbing and Heating needs.
email - info@ehs.cc
office - 01689 798511
This Article is Tagged in: Carbon Monoxide, Gas, Gas Meter, Gas Safety